Fun Tissue Paper Roll Dinosaur Craft For Kids (2 Templates)
Today's craft is very exciting, we are making a Tissue Paper Roll Dinosaur! 
If you guys are interested in dinosaur craft activities for kids, I think you will like this craft a lot. This dinosaur crafts for preschoolers is very easy to make because it has dinosaur craft templates to help you make it easily. Use the dinosaur crafts printable to make this tissue paper roll dinosaur. There are so many dinosaur craft ideas out there, so I also want to share one of mine with you guys.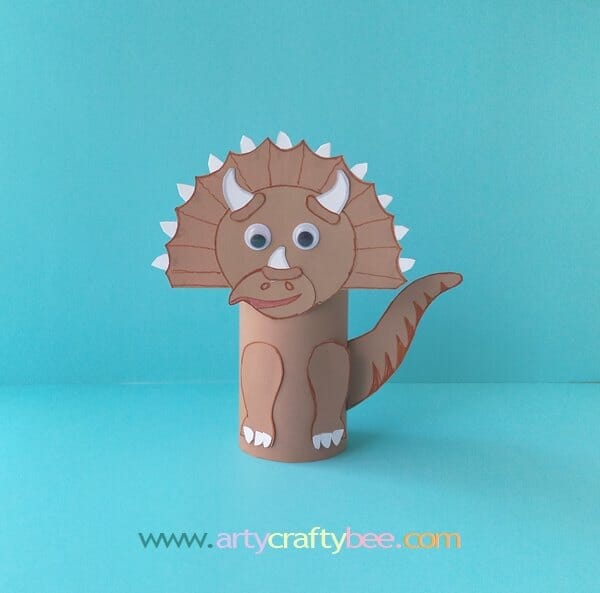 As you guys know there were so many kinds of dinosaurs. It will take a long time if we had to talk about every single one of them That's why today we will talk about one specific kind of dinosaur. Today's topic is Triceratops. I'm sure you have heard about this dinosaur and also seen it in cartoons. While we make our Tissue Paper Dinosaur let's hear about some interesting facts about dinosaurs and triceratops dinosaurs. 
I have collected 10 facts about Dinosaurs and Triceratops dinosaurs for you.
Before we get into it, none of these facts are my own, I have collected them from different websites.
10 Extraordinary Facts About Dinosaurs:
Did you know, there were more than 700 species of dinosaurs. 
Dinosaur fossils were found in all 7 continents, including Antarctica. 
"The Age Of Dinosaurs" is known as the Mesozoic era. This era was divided into three periods, Triassic, Jurassic, and Cretaceous periods.
The dinosaurs have been around for 230 million years. 
The name of the largest dinosaur is titanosaurs. Titanosaurs. had four legs, long necks, and small heads.
Triceratops's first fossil was discovered in Denver, CO 1887. John Bell Hatcher found a nearly complete skull in Wyoming in 1888. 
Triceratopses had beak-like parrots. The beak was so strong that it would chip tough vegetation.
Triceratops was about 30 feet long and weighed about 10000 pounds (5 tons). 
Triceratops had a huge skull, which was about one-third of its body. The largest known triceratops skull fossil is 2.5m.
Triceratops were herbivores. They eat plants, trees, shrubs, etc. 
Dinosaurs have evolved and developed through the Mesozoic era. There are so many theories on how the dinosaurs got extinct. One of the most famous theories is, the earth was hit by a ginormous asteroid, which eventually became the reason why the dinosaurs couldn't survive. This is it for today guys, we can discuss more on our next dinosaur craft.
How To Make Tissue Paper Roll Dinosaur Craft:
Download and Print The Dinosaur Printable Template:
Click To Download Tissue Paper Roll Dinosaur Template.
Tools and Materials:
Tissue Paper Roll.
Colorful Cardstock Paper.
Colorful Craft Papers.
Scissors.
Glue.
Pencil.
Ruler.
Marker Pens. 
Googly Eyes. 
Step 1:Dinosaur Pattern Cutout:
Use cardstock paper and craft paper to trace the dinosaur patterns and cut them out using a pair of scissors.
Step 2: Mouth:
Glue the triceratops's beak-like mouth with its head.
Step 3:Frill:
Glue the triceratops's large frill on the back of the head.
Step 4: Horns:
Glue one horn on the top part of the mouth, and glue the other two horns on the two sides of the triceratop's head. 
Step 5: Eyes:
Glue two googly eyes on the triceratops's head,
Step 6: Toes:
Glue the nails with the feet.
Step 7: Prepare The Roll:
Take the same craft paper you used to make the dinosaur, then wrap the tissue paper roll using the craft paper and apply glue to secure the wrap.
Step 8:
Glue the triceratop's head on top of the tissue paper roll.
Step 9:
Glue the triceratops's feet on the tissue paper roll.
Step 10:
And to finish making your tissue paper roll dinosaur, glue the triceratops's tail on one side of the tissue paper roll. 
I think we had tons of fun making this tissue paper roll dinosaur craft and learned so much about these creatures.
How To Use This Tissue Paper Roll Dinosaur:
This tissue paper roll dinosaur is an amazing puppet craft for kids. Kids can play with this tissue paper roll dinosaur as a toy. This tissue paper roll dinosaur can also be used as a pencil holder. I have always found dinosaurs very fascinating. I enjoy learning about them, and thanks to science for giving us so much knowledge about these extraordinary creatures.
More Crafts Like This Tissue Paper Roll Dinosaur:
Discover More Fun Crafts and DIY Projects.