Easy Ghost Pop Up Card Halloween Craft For Kids (2 Patterns)
Are you looking for ghost crafts for Halloween? Ghost craft is very popular during the Halloween season. I have an idea for ghost crafts for toddlers.
This Ghost Pop Up Card is so easy to make. There are so many ghost craft ideas, so I also want to share my ghost Halloween craft idea with you guys. This ghost paper craft is simple and easy for kids. I didn't make any Halloween ghost paper crafts for my blog's earlier posts. But I have some amazing Halloween crafts here on my blog that are very suitable for kids. In today's craft, this ghost pop-up card craft comes with free printable templates. It also has 5 easy directions you can follow to make this ghost pop-up card. 
If you are having a Halloween party at home with friends and family, this could be a fun Halloween activity for kids. You can spend some time with the kids making these fun Halloween cards. If you are sending invitations for your party, you can make these Halloween Ghost pop-up cards to invite everyone. 
Fun Ghost Facts For Kids:
Ghosts can go through anything, so they probably don't need doors or windows. They can easily go through walls.
Ghosts can teleport. They can go from one place to another in a blink of an eye.
Ghosts are actually spirits of people and animals.
"Casper" the friendly ghost is a very popular kid's movie. If you haven't seen it yet you should definitely watch it.
Ghosts don't need to eat or sleep. They can't eat anything because it'll just go through them, isn't that funny?
When I was a kid I used to be afraid of ghosts. But kids, don't be afraid of ghosts, they are not real. Have you seen the movie, Casper? Casper was a cute friendly ghost.
How To Make A Ghost Pop Up Card For Halloween With Step-by-step Instructions:
Learn to make a Ghost Pop-Up Card for Halloween.
Download and Print The Ghost Pop up Card Printable Template:
Tools and Materials:
Colorful Cardstock Paper.
Colorful Craft Papers.
Scissors.
Glue.
Pencil.
Ruler.
Marker Pens. 
Step 1:How To Make Paper Ghosts: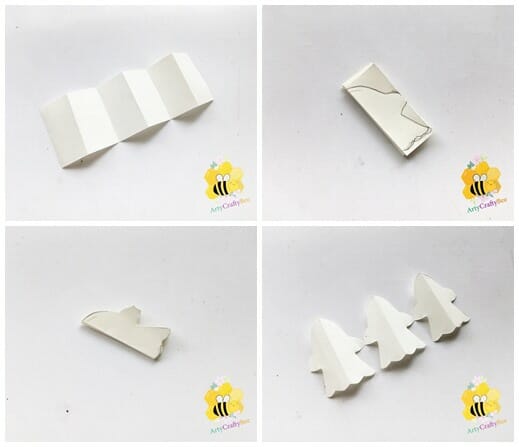 I will show you how to make a carousel of ghosts in easy four steps.
First, you need to cut out a piece of paper that is 6 inches long and 3 inches wide.
Fold the paper into six equal accordion folds.
Then, use the PDF templates to draw the ghost's pattern on the folded paper.
Cut along the ghost pattern's outline, remember don't cut around the hands.
Now, open up the folds to see your ghost pattern. 
Step 2: Ghost Decorations:
Take a black marker pen or sharpie, then draw the paper ghost's eyes and mouth. 
Then, take a pink marker pen/sharpie and draw cheeks on the paper ghost to make it look cute. 
Take the black marker pen again, and draw outlines on the paper ghost.
Step 3: Card Preparation: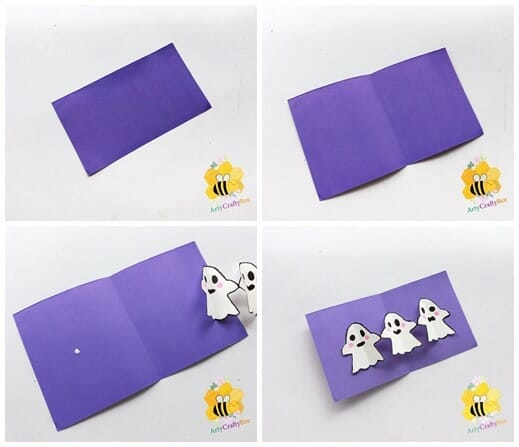 Select a color of cardstock paper for your ghost pop up card. 
The length and width of the card should be at least an inch longer than your ghost pattern,
Fold the cardstock in half.
Take your paper ghost, and apply glue on the left side's ghost's left hand,
Then, glue the ghost's hand on the left side of the card.
Then, apply glue on the right side's ghost's right hand, and glue it on the right side of the card.
Then use marker pens to add more details to your card. Draw some tiny spiders and spider webs on the card to decorate it. And your ghost pop-up card is ready. Have a happy Halloween kids.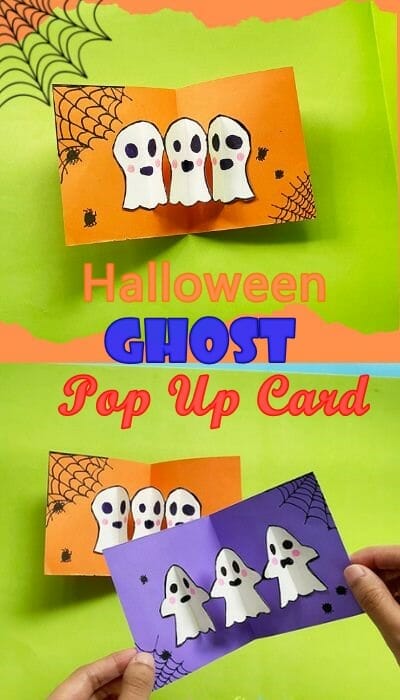 How To Use This Ghost Pop Up Card
This ghost pop-up card is a great idea for Halloween party invitations. make fun DIY Ghost Pop Up cards at home to invite your friends and family to your Halloween Party.
We have a few more fun Halloween craft ideas for you guys. We have tons of decoration crafts with easy templates.
We have this beautiful fall garland decoration craft that is easy to make for kids.
If you want to see more ghost crafts that are suitable for preschoolers and kindergarteners you can check out these two Halloween Crafts For Kids.
I hope you all liked our Ghost Pop Up card craft for Halloween. Please stay connected with our arty crafty bee family to discover more fun and amazing craft ideas for kids every day. This is it for today. Hope to see you all in our next craft post.