Baby Yoda Paper Craft For Christmas
I made a cute baby Yoda paper craft bookmark for all the Star Wars fans out there for you.
I can't explain how much I loved watching Star Wars growing up. If you watched Star Wars you know that Yoda was one of the best characters in the show. I had such a nostalgic feeling making this craft. I made plenty of baby Yoda crafts in the past for my clients but unfortunately, I never had the chance to make one for my own blog. Since my blog is for kids while I make any paper craft for kids I try to keep the pattern as easy as possible. If there are too many patterns and details younger kids might often struggle to make the craft. So less chatting and let's get into our today's craft.
How To Make Baby Yoda Paper Craft:
Supplies and Materials To Make Baby Yoda Paper Craft Bookmark:
Cardstock Paper.
Colorful Craft Paper.
Pencil.
Ruler.
Scissors.
Download the Free Baby Yoda Paper Craft Template:
Instructions:
Visit the link above to download the FREE printable baby Yoda paper craft template.
The templates for baby Yoda papercraft is in PDF format and A4 size. You can easily print out these templates at home using your printer. I have attached two sets of baby Yoda papercraft pdf templates. If you don't have a color printer, no worries you can use the black and white templates to ma your craft.
Step 1: Cut Out The Patterns:
Use the pdf templates for baby Yoda to trace the patterns on craft papers and cut them out neatly using a pair of scissors. If you are a child please ask an adult to help you.
Step 2: Glue The Ears.
Glue the pink ear-shaped cut-out patterns inside the baby Yoda's ears.
Step 3: Glue The Eyes.
Glue the baby Yoda's eyes on the top part of its face.
Step 4: Draw The Mouth:
Glue the two pink cheeks below the baby Yoda's eyes. Use a black gel pen to draw Baby Yoda's mouth.
Step 5: Assemble The Clothes:
Glue the white bottom border of the babyYoda's beanie. And glue the round white paper piece on the top point of the beanie.
Glue the sweater's white collar on the top of the sweater.
Glue baby Yoda's hands with the sweater's sleeves.
Steel 6: Join The Pieces Together:
Glue baby Yoda's head with the sweater's neck.
Glue the beanie on top of Baby Yoda's head.
Apply glue diagonally on the sweater's sleeves. :
Glue the sleeves with the sweater to finish the craft.
That was easy to make, right? Before we end today's craft I want to share some facts I found on the web about this adorable Character baby Yoda.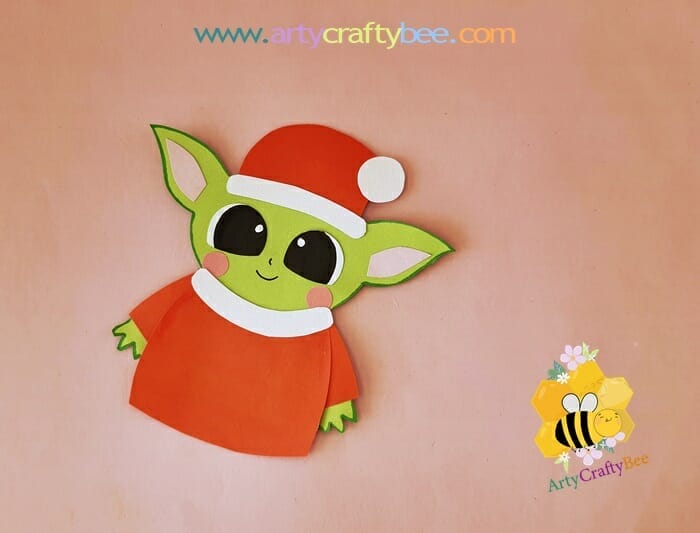 Fun Facts About Baby Yoda:
Did you know that Yoda lives for 900 YEARS?
Even adult Yoda was only 25 inches tall.
Yoda weighed about 38 pounds.
Yoda is also known as "Grogu".
A lot of information about Yoda remains a mystery, and it was on purpose.
Yoda is one of the few Jedi (and Sith) who kept his robe on during combat.
Yoda was voiced by Frank Oz in the Star Wars films, who also does voice the Cookie Monster and Miss Piggy from the Muppets.
How To Use This Baby Yoda Paper Craft Christmas Bookmark:
At first when I made this baby Yoda paper craft I didn't use the popsicle stick. I wanted to make a plain baby Yoda Paper Craft. But after finishing the Baby Yoda paper Craft it looked very bland, so I wanted to give it a purpose. So I added a popsicle stick so you can use this as a bookmark but you can also you this as a baby Yoda Paper Craft Puppet.
Here are some other crafts from our blog you might like: