Fun 3D Polar Bear Craft With Cereal Box
Learn To Make 3D Polar Bear Craft in 30 minutes.
Do you ever wonder how you can recycle empty cereal boxes? You can not imagine how many kinds of crafts you can make out of cereal boxes. If you are looking for some recycling craft ideas then this 3D Polar Bear craft might just help you out. This 3D craft for kids comes with templates. You can easily make this 3D Polar bear craft using the templates and an empty cereal box. This 3D craft project is perfect to pass some fun time with kids.
List of supplies:
Empty Cereal Box
Cardstock Papers.
Pencil.
Ruler.
Scissors.
Glue.
Fetch the listed supplies.
Download The PDF Templates:
How To Make 3D Polar Bear Cereal Box Craft Step by step instructions:
Step 1:
To get started first you need to open the cereal box carefully without tearing it. Then use the help of a ruler and pencil to draw a rectangular shape on one side of the cereal box.
Step 2:
Now, ask an adult to helo you carefully cut out the rectangular shape with a pair of scissors or a precision cutting tool.
Step 3:
Take some light blue craft papers and glue them inside the cereal box to cover them.
Once it is dried, glue the box back to its original shape.
Step 4:
To glue, the ice mountains inside the cereal box use the help of the PDF templates.
First use "Polar Bear Craft Template 1. pdf".
Then, glue the "Number 1" ice mountains on the back of the cereal box.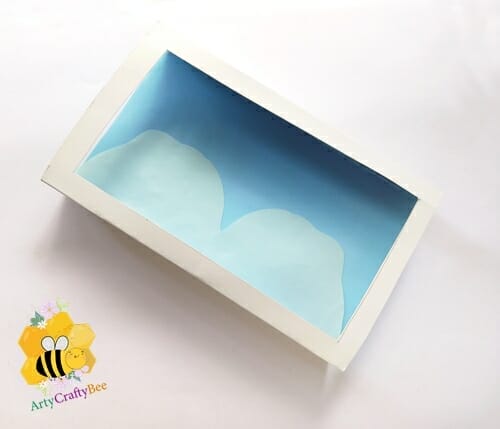 Step 5:
Now, cut out ice mountains "number 2" and fold the bottom parts of the mountains according to the lines on the templates.
Now, glue the mountains in front of the previous mountains. Leave 1-centimetre space in between these mountains.
Step 6:
Now cut out the trees from the templates (number 3).
Glue the trees in between the second mountains.
Step 7:
Now use "Polar Bear Craft Template 2.pdf" to cut out the snow "Number 4" from blue craft paper then glue it in front of the trees and mountains.
Next, glue the snow "number 5" on the two front corners of the cereal box.
Allow the glue to dry.
Step 8:
Meanwhile use the PDF template to cut out the polar bear.
Use white cardstock paper to make the polar bear.
Step 9:
Use marker pens to draw the polar bear's eyes, mouth, nose and ears.
Step 10:
Then cut out the polar bear's scarf from the PDF template.
Glue the scarf around the polar bear's neck.
Step 11:
Apply glue on the polar bear's paws.
Then, glue the polar bear over the blue snow to finish your craft.
How To Use This Craft:
This 3D polar bear craft project is an excellent winter craft project for kids.
You can make this 3D Polar Bear Kids Craft decorate tables or bookshelves. You can also use this Polar Bear Craft as a wall hanging decoration.
And since it is Holiday Season you can make this 3D Paper Craft gift for your friends and family.
Discover more fun crafts for kids here on Arty Crafty Bee. We post new kids crafts every week. Leave a comment down below if you liked this Polar Bear Craft with a cereal box and if you want to give it a try.
3D DIY Felt Christmas Tree in 6 Easy Steps (+ Free Pattern)
How To Make Easy 3D Tulip Pop Up Card
Thank you for staying with us hope you have a lovely Holiday. Until next time.