Easy St Patrick's Day Craft Shamrock Garland (2 Designs)
I am making these beautiful shamrock garlands for this year's Saint Patricks Day.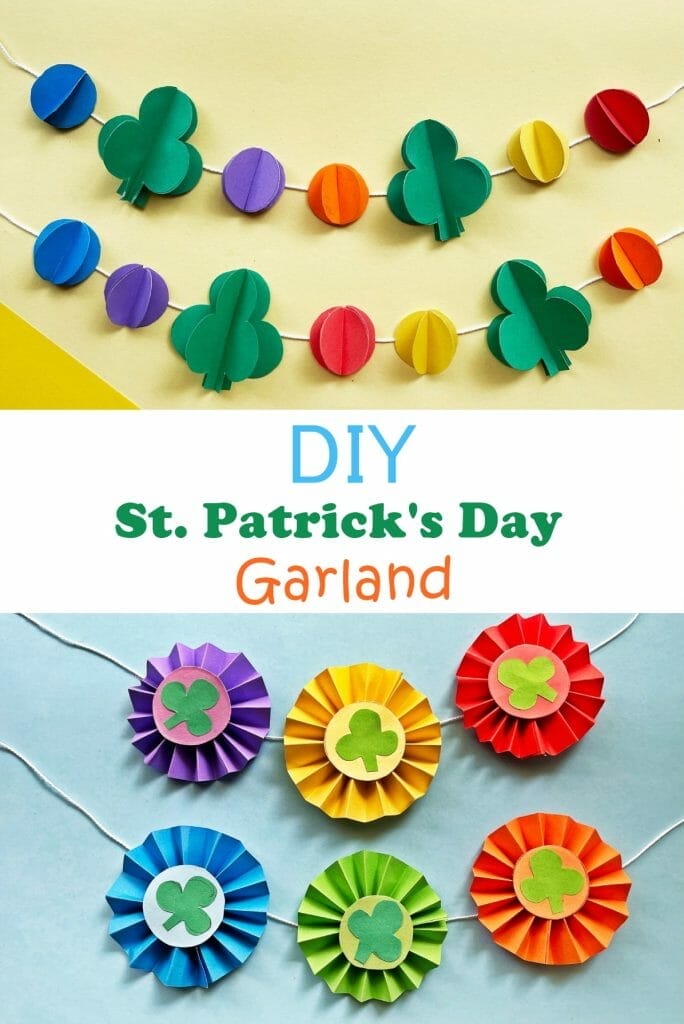 Are you celebrating St. Patrick's day? If you are having a party at home with your friends and family and you want minimal decoration for the house you can try these St. Patrick's Day crafts for adults.
But when I say craft for "adults" don't agree with me on that, I kept these easy St Patrick's day craft shamrock garland template so easy that you can call these St. Patrick's Day crafts for elementary.
There are so many St Patrick's Day craft ideas roaming around my head right now but I wanted to make an easy Saint Patrick's Day craft that is suitable for all ages.
I made two sets of shamrock garland patterns and I also have free templates for both of the DIY garlands.
Shamrock Garland DIY For St. Patrick's Day Craft Decoration
Download Templates St Patrick's Day Craft DIY Garland
List Of Tools and Materials
Colorful Craft Papers.
Pencil.
Ruler.
Scissors.
Glue.
Twine or thread.
Colorful Marker Pens.
How To Make Shamrock Garland Step by Step Instructions:
To get started with our today's craft you need to download the PDF templates I linked above. Then, check out the listed supplies and gather all the tools and materials you need for this craft.
I will start our today's tutorial with the accordion folded garland craft.
Step 1: Cut Out Paper Strip
Cut out a strip of paper from a colorful craft paper. If you are using A4-sized craft paper, cut out a 2-inch wide craft paper horizontally to get a longer strip. You can glue multiple strips together if you want a larger accordion folded piece for your garland.
Also, cut out two circular pieces of cardstock paper slightly different from your paper strip.
Use the templates to also cut out the clover from green craft papers. 
Step 2: Accordion Fold
Start making equal accordion folds on one end of your paper strip.
Keep making equal accordion folds on the paper strip until you reach the end.
Step 3: Apply Glue
Apply. Glue on one end of the accordion folded paper strip.
Then, join the two ends of the paper strip together.
Step 4: Make A Circle
Gently press down the top part of the accordion folded piece to make it flat. To make it easier check out this pumpkin craft. Apply glue on the circular paper piece, and join it to the center of your accordion folded piece to secure the circular shape. Glue the other circular piece on the other side of the accordion folded piece.
Glue the clover in the middle of your accordion folded piece.
Make a few more colorful accordion-folded pieces for your shamrock garland.
Step 5: Make The Shamrock Garland
Take some thick thread or twine to make your shamrock garland craft.
Use sticky tape on the back of the accordion folded piece to join it with the thread.
Join the rest of the piece with your thread to complete your Saint Patrick's Day Shamrock Garland craft.
Easy Saint Patrick's Day Craft DIY Garland For Kids
This Shamrock Garland is so much easier than the previous one.
Step 1: Cut Out The Patterns:
Using the templates cut out three clovers using green shaded craft papers.
Cut out equal circular-shaped colorful craft papers. Cut out at least three pieces from each color.
Step 2: Fold And Glue:
Fold the clovers in half. Also, fold the circular piece of craft paper in half.
Apple glue on one half.
Glue all three pieces of the clover shapes together to make a 3D clover pattern.
Similarly, glue the colorful circular piece as well.
Step 3: Make More
Make a few more 3D paper shamrocks and lots of colorful circular pieces.
Step 4: Make The Garland
Take a long piece of thick thread or twine. Tape the circular colorful paper pieces on the thread, keeping a gap after 2 pieces.
Glue the paper shamrocks in between the gaps. And your shamrock garland is ready. 
Would you like to see more Saint Patrick's Day Craft For Kindergarten? Here is a fun 3D Shamrock Card we made just for you.
Did you have fun learning from this tutorial? If you use our templates to make these amazing Saint Patrick's Day garlands please share pictures with us.