22 Amazing Mother's Day Crafts: DIY Gift Ideas and Inspirations
Brainstorming for Mother's Day Crafts idea? Look no further. We have carefully selected 22 fun Mother's Day crafts just for you.
When it comes to celebrating Mother's Day, what better way to show your appreciation than with a heartfelt and handmade gift? If you're looking for inspiration and ideas to create something extraordinary, you've come to the right place. In this collection, we've curated 22 amazing Mother's Day crafts from talented bloggers, each with their unique touch and creative flair. From simple yet elegant designs to more elaborate projects, there's something for everyone to enjoy.
Whether you're a beginner crafter or an occasional crafter looking to explore your creative side, these crafts offer a massive range of options. From personalized cards and handmade accessories to beautiful printable and home decor items, you'll find plenty of inspiration to make this Mother's Day truly memorable.
We've gathered the best of the best from the blogosphere, and we're thrilled to share these fantastic crafts with you. Each craft comes with a link to the original blogger's post, where you can find detailed instructions, step-by-step tutorials, free printables, and additional tips. Be sure to visit their blogs to show your support and discover even more creative ideas.
So, let's dive into this delightful collection of Mother's Day crafts and get ready to make something extraordinary for that special woman in your life. Handmade gifts are a heartfelt way to express your love and gratitude, and we're excited to help you make this Mother's Day an unforgettable one with these 22 amazing craft ideas.
Remember, don't forget to bookmark this page and share it with your friends who are also looking for inspiration. Let's spread the joy of crafting and celebrate the incredible mothers who fill our lives with love and warmth. Happy crafting, and happy Mother's Day!
Mother's Day Fun Gift Ideas You Must Try
Mother's Day Craft For Kids and Adults:
1. FREE PRINTABLE MOTHER'S DAY FLOWER ACTIVITY
Make Mother's Day extra special with Artsy Fartsy Mama's free printable flower activity, filled with lovely compliments for moms. This flower printable from Artsy Fartsy Mama is special because it offers a creative and meaningful way for kids to express their love and appreciation for their moms on Mother's Day. The compliments written on the printable add a personal touch, making it a thoughtful and heartwarming gift.
2. Mother's Day STEAM Activity + Free Printable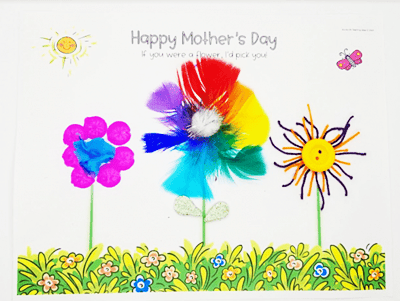 Get ready for a Mother's Day filled with creativity and learning! Kelly has created a fantastic STEAM activity along with a free printable to make this occasion extra special.
The Mother's Day STEAM Activity created by Kelly is important for kids as it combines fun and educational elements. It allows children to explore science, technology, engineering, arts, and math while celebrating their moms, fostering creativity, and promoting learning in a meaningful and engaging way.
3. Easy Zentangle Patterns Flower Mother's Day Craft for Kids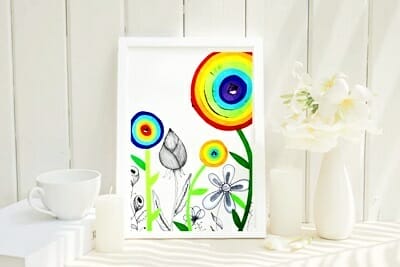 The Zentangle Patterns – Flower Craft made is incredibly fun because it combines the meditative art of Zentangle with the beauty of flowers. It provides a relaxing and enjoyable experience as you create intricate patterns, adding a unique touch to your floral designs. The process of combining art and nature in this craft allows for self-expression, mindfulness, and the satisfaction of creating something visually stunning. Looking for a perfect Mother's Day craft gift? Look no further! This Easy Flower Craft is a delightful and heartfelt present that combines artistic expression with the beauty of flowers. Create a stunning piece of artwork with intricate patterns, personalized for your mom.
4. Printable Mother's Day Card to Color
Celebrate the extraordinary moms in your life with a sweet touch! Introducing a Mother's Day Flower Printable Card, a perfect way to express your love and gratitude. Personalize this beautiful card, filled with blooming flowers and a special message, to create a meaningful keepsake that will warm her heart. Show your appreciation with this thoughtful and creative gesture that she'll cherish forever.
5. Tissue Paper Heart Craft
These tissue paper flower crafts are perfect for both Mother's Day and Valentine's Day. Make 3-4 tissue paper heart flowers and you can put them in a flower bouquet.
6. Handprint Paper Flower
Get ready for an adorable and meaningful Mother's Day gift from your little ones! Introducing a Handprint Paper Flower Craft designed specifically for toddlers. It's a perfect opportunity to create a lasting keepsake that celebrates the love and bond between a child and their mom.
7. Free Printable Mother's Day Coloring Pages for Kids
To make Mother's Day extra special for your mom you can print out these "All About Mom" printables and color them up. Your mom will definitely love it.
8. Mother's Day Handprint Flowers Craft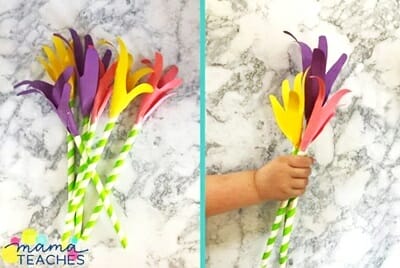 How elegant and simple are these handprint flowers for Mother's Day? Make beautiful flowers using easy materials for the special lady in your life.
9. Sloth Craft You've Ever Seen for Mother's Day
10. Easy DIY Paper Tulip Craft For Mother's Day
With its simple yet charming design, this handmade gift is sure to bring a smile to any mother's face. Let your toddlers showcase their creativity and make this Mother's Day extra special with this heartfelt handprint paper flower craft.
11. 5 Printable Mother's Day Cards
12. Sunflower Mother's Day Craft For Kids
13. Mother's Day Handprint Flower Craft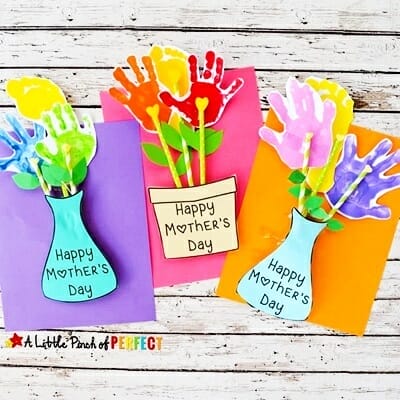 14. Egg Carton Tea Cup Cards for Mother's Day Craft
15. I Love My Mom Printable Mother's Day Flower Craft
16. Mother's Day Handprint Craft
17. How to Make Easy DIY Garden Stepping Stones
18. How To Make Egg Carton Flowers For Mother's Day Craft
19. Mother's Day Handprint Flower Poem Printable
20. Printable The Worlds Best Mom Award Certificate
21. I Love You To Pieces Mother's Day Craft
As we conclude this collection of Mother's Day crafts, we hope you've found inspiration and ideas to make this special day even more memorable. From personalized cards to intricate art projects, we've explored a range of creative ways to express your love and appreciation for the incredible moms in our lives.
Lastly we have this mother's day flower bouquet craft by Arty Crafty Bee.
Remember, the true essence of Mother's Day lies in the thought and effort behind the gift. Whether it's a handmade craft or a heartfelt gesture, it's the sentiment that counts. Take the time to show your mom just how much she means to you, not just on this day but every day.
We hope these crafts have sparked your imagination and encouraged you to embark on a crafting journey filled with love and creativity. Don't forget to visit the talented bloggers who shared their amazing ideas and show your support for their incredible work.
Wishing you a joyful and memorable Mother's Day, filled with laughter, love, and cherished moments with the remarkable mothers who have shaped our lives. Happy crafting!